Sunday Worship at St. Martin's-in-the-Field
JOIN US IN-PERSON AT 8:00 OR 10:30 A.M.
or LIVESTREAM AT 10:30 A.M.
St. Martin's will return to full in-person worship at each of our services in stages with the guidelines provided by the Diocese of Maryland. This will be done with care for the health and safety of our beloved parish family as a priority, living fully into our Baptismal Covenant of loving our neighbors as ourselves and respecting the dignity of every human being. Click here for the full plan for in-person worship at St. Martin's in-the-Field. Click here for the Maryland of Diocese's current guidelines.
New COVID Guidelines from the Diocese:
Masks will be required, regardless of vaccination status.
Masked congregational singing during the 10:30 a.m. service.
Social distancing for seating in the sanctuary is mandatory.
Communion happens from a single standing station from the chancel steps.
Clergy/lectors/cantors may speak/perform unmasked as long as social distancing occurs.
Socializing must happen outdoors only and with social distancing–please depart the sanctuary immediately after the service and head outside to talk and greet one another.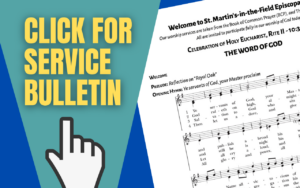 There are several ways to JOIN US for Virtual Worship:

1. Watch on YouTube 

2. Watch on  Facebook
You do not need to be a member of Facebook to join us, click here for details. 
3. Click the video link below at date and time of service.
Did you Miss us on Sunday?
Visit our sermons page and catch up on all the worship services you might have missed.
For additional daily prayer please visit our YouTube page.
Need a BCP? Use the BCP PDF or contact the church office for a prayer book.
Additional Services: