Worship with us Virtually Sundays at 10:00 a.m.
Join us for a livestream a spoken service of Holy Eucharist at 10:00 a.m. on Sundays. 
CLICK HERE to worship with us on Sunday mornings. Follow the service word for word at home using our bulletin.
(Even if you do not have Facebook you can still view the service – click here for details.)
Give thanks to God at the close of the day for all the blessings you have received. Starting June 1, 2020, all are welcome to join us and worship together Monday through Friday over the summer using An Order for Compline. Visit 
St. Martin's YouTube page
 for the daily updates.
For additional daily prayer please visit our YouTube page.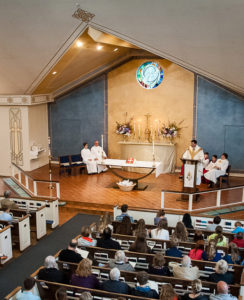 Need a BCP? Take a BCP.  Use the
BCP PDF
or pick up a copy of the Book of Common Prayer from the box located in the portico by the front doors of the church so you can worship with us at home.
Please take a copy for your home, bringing it back once we are able to worship together on Sunday mornings.
If you like to view our previous livestream service and/or sermons
click here
.
At this time our in-person worship services are suspended. Please check back for updates.