LIVESTREAM Sunday Service at 10:30 a.m.
Join us for a livestream a spoken service of Holy Eucharist at 10:30 a.m. on Sundays. 
CLICK HERE to worship with us on Sunday mornings. Follow the service word for word at home using our bulletin.
(Even if you do not have Facebook you can still view the service – click here for details.)
Diocese of Maryland Suspends In-Person Worship for the Remainder of 2020 
In response to rising COVID-19 positivity rates the diocese has suspended in-person worship service through the end of the 2020 year. We will let you know when the diocese will allow us to resume. Join us for the 10:30 a.m. livestream services which will occur as usual.
Did you Miss us on Sunday?
Visit our sermons page and catch up on all the worship services you might have missed.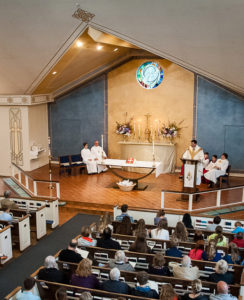 For additional daily prayer please visit our YouTube page.
Need a BCP? Take a BCP.  Use the
BCP PDF
or pick up a copy of the Book of Common Prayer from the box located in the portico by the front doors of the church so you can worship with us at home.
Please take a copy for your home, bringing it back once we are able to worship together on Sunday mornings.
Additional Services: