Sunday Worship at St. Martin's-in-the-Field
JOIN US IN-PERSON AT 8:00 OR 10:30 A.M.
or LIVESTREAM AT 10:30 A.M.
There are several ways to JOIN US for Virtual Worship:

1. Watch on YouTube 

2. Watch on  Facebook
You do not need to be a member of Facebook to join us, click here for details. 
3. Click the video link below at date and time of service.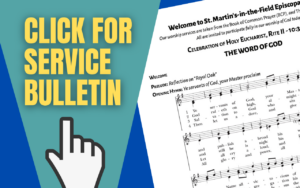 Phasing out COVID-19 Restrictions at St. Martin's:
Masks optional in worship and in all indoor spaces. Mask use is still encouraged as an easy mitigation strategy and expected for those who are unvaccinated.
No social distancing requirements for pews.
Passing the Peace may resume with words of greeting, fist/elbow bumps, etc. Should you wish to refrain from physical contact during the Peace, simply give those around you the two-fingered "peace sign" as an easy way to communicate your preference. Handshakes are discouraged, and the Peace should not extend beyond a few minutes.
Wine distribution using the common cup resumes.
Bishop Sutton has discontinued the practice of intinction in our diocese (dipping the bread into the chalice). Should you not wish to receive the wine, communicants are requested to stay kneeling after receiving the bread and simply cross your arms over your chest and wait until the chalice is presented before returning to your seat. Unvaccinated persons are discouraged from receiving from the common cup.
Did you Miss us on Sunday?
Visit our sermons page and catch up on all the worship services you might have missed.
For additional daily prayer please visit our YouTube page.
Additional Services: