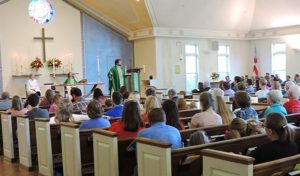 Whether you are searching for a new Parish home or joining the church for the first time, we'd like to welcome you to St. Martin's-in-the-Field.
Have a look around, but don't let our website do all the talking, join us for Sunday worship to see what we are really all about.
For more information about the types of questions that our website offers, please see below:
By clicking on our See what we are About page, you can learn more about our Mission and Vision here at St. Martin's, how we connect as a parish family via our Outreach and Ministry programs, as well as the Christian Formation opportunities we offer here.
Whether you are coming from another church, or this is your first time in the Episcopal church, everybody is welcome at St. Martin's. Click here to learn about some of our core values as Episcopalians.
During the COVID-19 pandemic, our staff has worked around the clock to continue to offer virtual and in-person opportunities for our St. Martin's family. To learn more about what that means, please click the link above.
We offer many opportunities for Episcopalians of all ages. If you are interested in learning more about our Children's Ministries program, click the link above.
Here at St. Martin's we have an amazing staff that works around the clock to make St. Martin's as welcoming and comfortable as possible. For more information on our staff, please click the link above to learn more about them. The church office is always looking for volunteers to help out. If you have a couple of hours of time to volunteer, please reach out to Amber Kaltz. We would love to see your smiling face!
There are constantly events and news going on here! In order to stay updated, click the link above to subscribe to our weekly newsletter. The E-Pistle goes out once a week and includes information on what is happening that week, fellowship opportunities, links to online services, as well as ways that you can connect and stay in touch with your parish family.
If everything you've read so far sounds good to you then we invite you to become a member of St. Martin's today. Just coming to church and being part of our community is enough, but it helps us to get to know you better if you complete our membership form.