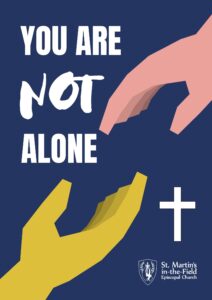 Mental health includes our emotional, psychological, and social well-being. It affects how we think, feel, and act. Mental health is important at every stage of life, from childhood and adolescence through adulthood.
If you think you or someone you know is suffering seek support today. Take a look at the resources provided below or contact clergy for assistance by calling our office at (410) 647-6248 any time and following the prompts for pastoral emergency.
Suicide Prevention
For immediate help CALL the National Suicide Prevention Lifeline at 800-273-8255 or text TALK to 741741.
For information about suicide prevention and for resources for those affected click here.
Mental Health
There are many local services and programs for individuals and families affected by mental illness. NAMI (National Alliance on Mental Illness) Anne Arundel County offers many programs free to the public. For support contact NAMI Anne Arundel county at 443-569-3498 or the NAMI National Helpline at 800-950-NAMI.
Caregiving Resources
Caregiving can be both fulfilling and emotionally exhausting. Make sure you care for yourself as well as others. For help and support visit the National Family Caregiver Support Program (NFCSP) in Anne Arundel County or the Maryland Department of Aging.
Grief Support Services
Remember you are not alone. If you need support during a difficult time please make an appointment to speak with our clergy and take a look at these resources for assistance coping with grief or loss.
Substance Abuse and Addiction Resources
For immediate help call the U.S. Substance Abuse and Mental Health Service Administration at
800-662-HELP (4357)
or visit their website
SAMHSA.gov
.
For resources for substance use disorders or for more information
click here
.
_________________________________________________
If you are interested in working to promote mental health awareness help support our Outreach ministry:
Our Minds Matter (OMM): Work to end society's stigmatism surrounding mental illness. St. Martin's is a proud supporter of the important service work and ministry they are providing to our community and world. For details on OMM and how you can support this student lead ministry click here.