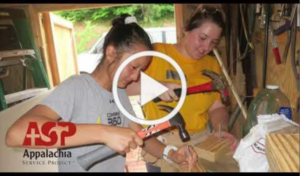 Outreach seeks to serve all those in need.  We actively support the local community:  Arundel House of Hope, Habitat for Humanity, Holiday Sharing, Paul's Place, SPAN, Winter Shelter, and the Severna Park Community Center.  We also provide our facilities to Boy Scout's of America, Narcotics Anonymous, and Alcoholics Anonymous.
All are invited to join the Mission & Outreach Commission with both their time and talent to fulfill our greater mission "to serve."  We welcome your help in the work of the commission to assist those who need our support. Contact our commissioners for more information about any of our outreach ministries:
Our Outreach & Mission offerings include: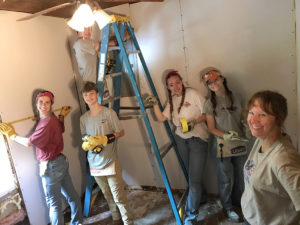 Appalachia Service Project (ASP): Come and be the hands, feet, hammers and circular saws of Christ alive in the world. Click here to learn all about St. Martin's involvement in ASP and to sign up for our summer 2020 mission trip. Contact Rev. Matthew Hanisian.
Arundel House of Hope/Fouse Center:  This organization provides emergency, transitional, and permanent housing for the homeless; employment assistance, and mental health and substance abuse support. For detail contact Mark Kellogg.
Backpack Buddies: Gathers, packs and delivers weekend food to AA County students in need each Friday.  Currently working with three local schools. This ministry allows these students to have healthy foods at home and be ready and able to learn.  We believe it helps ease the financial burden for these families as well.  St. Martin's members make, donate, buy, sort, and pack food each week.  The fellowship is priceless. All ages can participate, contact Michele Cummings.
Christmas Mart: A showcase of quality handmade arts and crafts from local artisans.  Next year's event will be held Saturday, December 7, 2019 from 9:00 am to 2:00 pm. We are always looking for vendors – if you wish to be a part of our fun and exclusive list of designers and crafters please click here for details. To volunteer on the Christmas Mart committee OR for details email stmartinschristmasmart@gmail.com.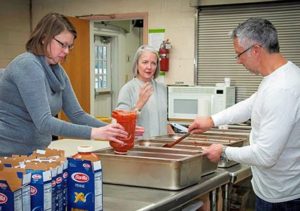 Give Back Fellowship: Join the Give Back Fellowship on Sunday mornings at 9:00 a.m. in the kitchen during the Sunday School year.  Each Sunday we will work together to provide food for a different group in need, including, Lighthouse Shelter, Backpack Buddies, and Paul's Place. Contact Kassy Sodergreen.
Holiday Sharing:  This program provides food baskets and gifts at Thanksgiving and Christmas for some of the neediest families in our county. Contact Cindy Rott.
Many Rivers: This group aims to address the effects of injustice and poverty in the world around us, and in so doing be the "face of Christ" in our community. We welcome you to join us as we educate ourselves to the issues, take action, and continue to develop our relationship with St. Philip's in Annapolis. Contact Alison Cullinane.
Poverty Group: Centered on supporting Hope For All, a non-profit in Glen Burnie that provides home goods and furniture to clients who are connected to them by social service agencies and housing non-profits. Contact John Ketchum.
Behavioral Health Group: Focused on addressing mental health issues within our congregation and school, in light of the increased incidence of suicide and other mental health issues in our young people. We support the Our Minds Matter group with volunteer and financial support, and a resource library will be set up in the corridor between the narthex and the parish hall. Contact Chris Werth.
Housing/Homelessness Group: Our research found that several local non-profits and county agencies already provide services to people who are homeless or are at risk of becoming so. However no one addresses the needs of, or tries to recruit landlords. There appears to be a need on both sides: agencies and non-profits that vet, prepare and provide tenants need housing resources, and landlords in the lower income housing market need vetted tenants. St. Martins will hold a symposium in the Spring to support the connection of these two groups. Contact Jason Copeland.
Our Minds Matter (OMM): Work to end society's stigmatism surrounding mental illness. St. Martin's is a proud supporter of the important service work and ministry they are providing to our community and world. For details on OMM and how you can support this student lead ministry click here.
Paul's Place:  Parishioners give time and material support to programs at Paul's Place, providing food, clothing, job and educational opportunities to residents of a southwest Baltimore neighborhood. This ministry is important as it provides for those in need and creates a bridge between communities, building understanding and brotherly love. Every member of the congregation is invited to participate regardless of age.
Paul's Place Serving Lunch: Volunteers visit Paul's Place the first Tuesday of each month to participate in a prayer meeting and serve guests lunch. This long standing ministry enables us to see the face of God in everyone.

 

Paul's Place runs on volunteers and we on the work we do there. All are welcome.

 
If you are interested in learning more about Paul's Place please contact Kris Chappell,  or check out our volunteer calendar for opportunities this month.
Scouts:  St. Martin's has sponsored Boy Scout Troop 855 for 50 years. Parishioners are always welcome. For more information please email Boy Scouts or Cub Scouts.
SPAN (Severna Park Assistance Network): Provides help to people in a critical or emergency situation such as utility turn-offs, court-ordered evictions, prescription/medical needs, and food. Anyone can participate through monetary donations, food donations, holding and supporting fundraisers, and volunteering at SPAN directly. Visit SPAN's website for more information.
Winter Shelter: We shelter 25-30 homeless men as part of Winter Relief.  We provide hospitality, meals, laundry, and safety for one winter week: March 18-24. We are offering shelter to men who are often marginalized. We join together with over 70 congregations to each take a week as we work together to alleviate some of the suffering these men face. This is a multi-faceted ministry that involves people of all ages including children and youth. To help contact Susan Griesmyer.
If you are interested in volunteering or for more information please contact us.