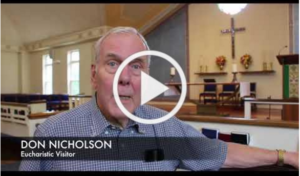 We provide spiritual, emotional and physical support to our parish family members. When a parishioner shares in the Eucharist when homebound or hospitalized, is provided a meal or transportation to the doctor or enjoys the warmth and comfort of a shawl, the parishioner will know that he or she is part of our parish family. If you feel called to be a helping person for your fellow parishioners, this is the ministry for you.
Eucharistic Visitors: This group shares communion directly from the Sunday altar with those who are unable to be in church. Contact the parish office if you would like to have communion brought to you. If you wish to participate in the office and join the Eucharistic Visitors team we will train you.
Helping Hands: Volunteers assist those in need by delivering meals and supplying rides to appointments on an occasional basis. Any active parishioner who can drive is welcome to join us, especially if you have some extra time on your hands.
Card Ministry: Cards are sent on behalf of the congregation to those who are sick or grieving, celebrate a joyous occasion, and share God's love.
Mental Health and Grief Resources: Remember you are not alone. If you need support during a difficult time please make an appointment to speak with our clergy and take a look at these resources for assistance.
If you are interested in volunteering or for more information please contact us.