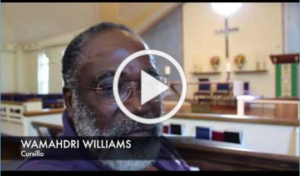 St. Martin's maintains a robust adult education with many programs offered throughout the year, on and off campus. We devote ourselves to the apostles' teaching and fellowship, to the breaking of bread and the prayers. Our hope is that conversation with your fellow travelers along the path to faith will move you closer to God.
We offer Bible studies for those who haven't a clue; those who wish to widen their meager knowledge; and those for whom Bible study is a way of life. There are also book studies, often by provocative authors that seek to help us articulate our own beliefs. We hope you'll choose to engage your mind as you come to know God.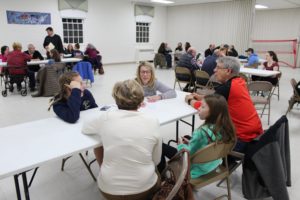 Our adult formation offerings include:
Adult Forum: Sunday morning Adult Forums at St. Martin's cover many theological and contemporary issues and a broad range of topics from lectionary-based Bible Study to interactive lectures and seminars. Contact: Jeff Dickerson, (410) 987-4017.
Bible Challenge Group: We are currently studying the Holy Bible in a chronological order. We also study the Gospels using Gospel study guides published by Forward Movement.  Anyone interested in a casual weekly study of the Bible is welcome.  Meets Tuesday nights at 7:00 p.m. in the lower level of the Parish House.  Contact: Cynthia Neseth.
Bible Workbench: Meets during the Christian Education hour to study Sunday's readings/proclamation from the texts in the morning Eucharist.This rich dialogue and prayerful listening will enliven your spiritual journey. All are welcome to join us in the Parishall, as we share our life in Christ. Contact: Rev. John Price.
Contemporary Christian Writers: Reflect upon a chosen contemporary writer's book and discuss its importance to our daily lives. Contact:Sylvia Marston, (410) 647-7493.
Cursillo Ultreya: Monthly get together of the St. Martin's and St. Andrew's Cursillo community and supporters. Usually includes music and refreshments. Join us in the church at 7:00 p.m. All are welcome. Contact Wamahdri Williams,(410) 431-5066.
Education for Ministry (EfM): A 4-year program to prepare a more effective lay ministry through in depth study, discussion, and theological reflection. Click here to learn more about the program. Contact:John Dirks, (410) 224-4132; Charlie Fitzgerald, (410) 353-4719.
Foyers Group: Adults are welcome to join in these social gatherings that strengthen relationships so that friendships can grow. Gatherings center around food, fun, and fellowship and take place in one's home for a meal, a picnic, an outing, etc – the options are endless. Contact: Judy Bonanno.
Moms in Prayer: We would love to have you join us as we lift our children and schools in prayer. We meet at 10:00 a.m. in the lower conference room of St. Martin's house, second Friday of the month. Contact:  Sarah Parkison.
Shepherd Group Bible Study: Group discussion of the readings for the upcoming Sunday. All adults welcome. Meet Thursdays at 4:30 p.m. off campus. Contact:Sylvia Marston, (410) 647-7493.
If you are interested in volunteering or for more information please contact us.