Handbell Member Access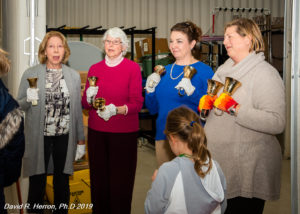 The handbell is an instrument that produces a unique and mystical sound. Each member of the handbell choir rings two or more handbells which are tuned to precise pitches. When the handbell choir plays as a group, the glorious music reverberates throughout the sanctuary.
Rehearsals are held on Sunday after the 10:30 a.m. service, during which we work on musicianship and collaboration. We also use these meetings as an opportunity to enjoy each other's fellowship and to praise God.
Contact: Dr. HyeSung Hwang, Director of Music Ministries