The Children's Ministries program, intended for children age Pre-K through Grade 5, creates many opportunities to build the foundation of our children's relationship with God.
Our children's ministry offerings include: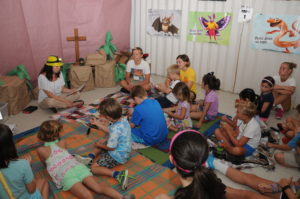 Children's Chapel:This program strives to deepen the children's understanding of our Episcopal worship service. Children's chapel is available for children 5th grade and under. Drop off begins in Parish hall on Sunday's at 9:50 a.m. Children experience the age appropriate Liturgy of the Word and then return to their families during the peace. Your child is welcome to either join in or remain in church. We warmly welcome volunteers of all ages to join us in teaching homily to our children. Volunteers rotate and are typically assigned a few homily dates per year. Training, curriculum and materials are provided.
Sunday School: This is where the foundation of our children's relationship with God deepens. Sunday School occurs between our 8 a.m. and 10 a.m. service and deepens our children's relationship with God. Parish volunteers teach their assigned classes for an entire school year. We welcome anyone who feels a calling to teach our youngest members about embracing and celebrating the joy of God's presence in their lives. Training, curriculum and materials are provided.
Nursery Co-Op: Care is provided during church services and Sunday School to children ages 3 and under. Volunteers are paired with our professional child care provider, Ms. Reita Turro. Commitment is for approximately 2.5 hours on Sunday morning, on a recurring basis. Volunteers of all ages, not just families of young children, are welcomed warmly and eagerly into our Nursery Co-Op.
Vacation Bible School: This volunteer-led program features a week's worth of activities for children ages 4-10 to enjoy. Activities include storytelling, reading scriptures, physical activity, music, crafts and more. Our 2017 VBS will be the week of July 24-28. Join our VBS team as a volunteer. 
If you are interested in volunteering or for more information please contact us.